Planning. Investments. Service.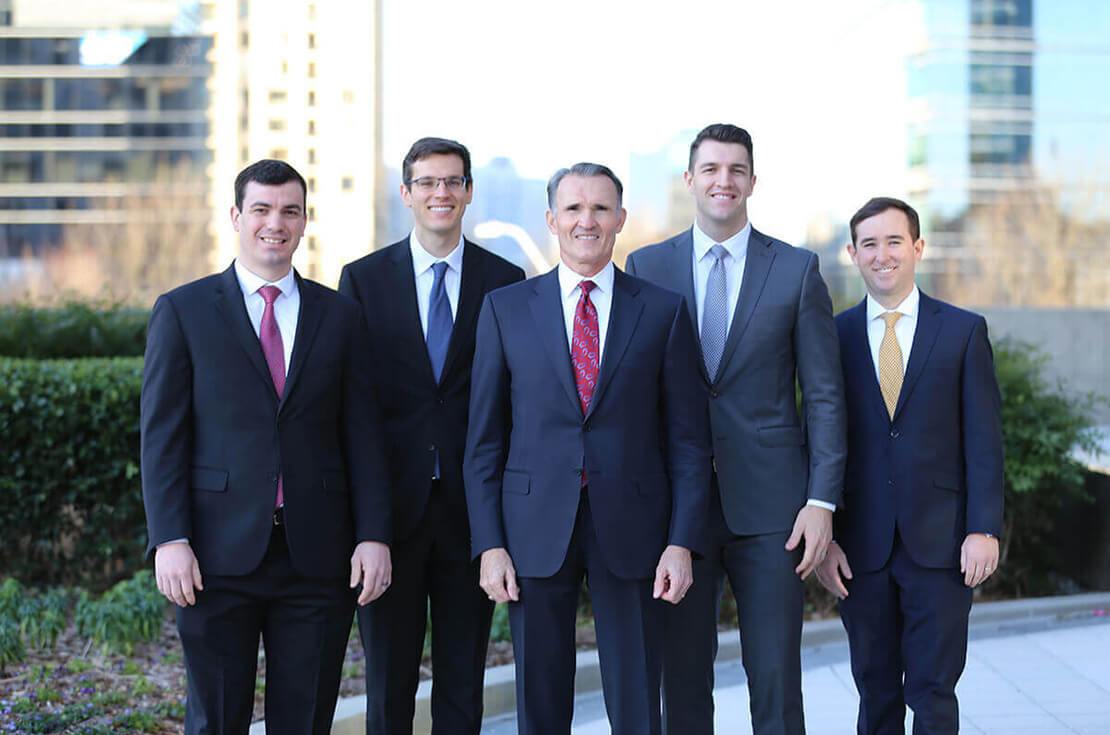 PICTURED L TO R: PHILLIP BOYD, REGAN SMITH, RYAN SMITH, RHETT DRISCOLL, HAMILTON HARBIN.
Smith Capital Advisors (SCA) consists of five Private Wealth Advisors who bring over 65 years of industry experience to the market. Among other professional planning designations held, advisors at SCA hold bachelor's degrees in finance or financial & estate planning, are CERTIFIED FINANCIAL PLANNER™ professionals, while also holding advanced degrees in taxation, and portfolio management. Members of SCA attend up to seven financial conferences per year to stay abreast of changes in the capital markets, including the economy, the tax system, and political initiatives.
The heart of SCA's practice is advisory, fiduciary based asset management and comprehensive retirement, survivor, education, and estate planning where SCA manages over $1.1 Billion of financial assets (as of March 31, 2022) for clients nationwide (in 2022, SCA serves clients in more than 35 states). SCA specializes in assisting clients with investment management to help meet lifetime accumulation and income needs (over the past 5 years through the end of March 31, 2022, SCA has averaged monthly distributions of approximately $3 Million per month to their retired clients, from the assets SCA manages). Expertise in retirement, estate, education, life, disability, and long-term care planning allow SCA to pursue their objective—to provide superior long-term investment results with superior service.
SCA is affiliated with and supported by Northwestern Mutual – a FORTUNE 100 company that has been in business for over 160 years (since 1857). The operations team supporting SCA consists of members from Northwestern Mutual's Goodwin Wright network office, who help ensure the servicing needs of clients are promptly met. Nationally, SCA is supported by Northwestern Mutual's investment research, compliance, and marketing departments, and associated support staffs, allowing SCA to provide premier planning and implementation solutions for their clients.
Our team is award-winning
Ryan Smith has again been recognized by Barron's as one of the top financial advisors in the country, and has also been named to the Forbes 2022 Best-In-State Wealth Advisors list.
---
NORTHWESTERN MUTUAL RANKED 90 IN THE 2021 FORTUNE 500 LISTING.
FINANCIAL REPRESENTATIVES DO NOT RENDER TAX ADVICE. CONSULT WITH A TAX PROFESSIONAL FOR TAX ADVICE THAT IS SPECIFIC TO YOUR SITUATION.
NO INVESTMENT STRATEGY CAN GUARANTEE A PROFIT OR PROTECT AGAINST A LOSS.
ASSETS ARE MANAGED BY SMITH CAPITAL ADVISORS WITHIN THE SIGNATURE CHOICE PROGRAM. FOR ALL OTHER PROGRAMS, ASSETS ARE UNDER THE MANAGEMENT OF NORTHWESTERN MUTUAL WEALTH MANAGEMENT COMPANY, AND SERVICED BY SMITH CAPITAL ADVISORS. FIGURE AS OF 3/31/2022, BASED ON INTERNAL DATA.